Events
Summer Solstice: Build the Fire of Manifestation
June 24 - 25, 2017 | Saturday 11am to Sunday 4pm | $95/day or $190/both days | Register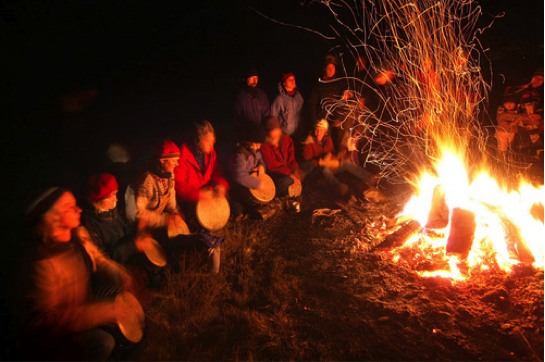 Do you love the long days of summer? The warm weather and sunshine? Does it lift your spirits? Have you always loved being out in Nature and spending time with the forest, mountains, animals, and waters of Mother Earth? Do they renew you, melt away depression, worry and anxiety, and bring back into hope and optimism?
Join Rachel Mann, PhD for the Summer Soul Gathering on June 24-25.
Solstice Soul Gathering
Saturday-Sunday, June 24-25
The solstices are potent times to catalyze your dreams and stoke the inner fires of creativity, passion and purpose. Through ceremonies of sacred song, dance and drumming, fire, flowers and water, build soul force, heal your heart, and pray for what you wish to bring into being in your life, the lives of your loved ones and the planet! Come for both days and an overnight stay on the farm with the magical horses at Galleywinter, or come for one day. This is a great way to gather together with friends or, if you are a newcomer, to connect into a caring community of mystical explorers of shamanic practices. Each day will have different ceremonies. Meals provided. Cost: $95/day or $190/both days. Go here to read more and to register.
"Since bringing the lodges to Gail's last fall, they have been in a period of tremendous growth and deepening. The energies of Gail's land and her own long years' of healing work there have created a dynamic vortex which combusts what is in the shadow into light and love."
Build a Stone Earth Wheel
Please join us on Friday, June 23 to complete our Medicine Wheel. Stone medicine wheels can be found all over the world. Each stone is mapped to a particular animal ally or Great Being of Light through prayer and offerings of cornmeal, tobacco and sweet herbs. This is a sweet community gathering in love and gratitude for the beauty of Mother Nature. This event is FREE with a potluck afterwards.
Make it a Retreat
Stay for the weekend and be pampered on-site with healthy delicious meals and cozy sleeping. Camp under the stars if you like.
Book: Airbnb
More Info: Accommodations
Questions: about accommodations at Galleywinter Farm gail@leadingforth.com