Events
Want to be notified about events and happenings at Galleywinter Farm? Subscribe to our newsletter.
Power Shield Workshop with Susan Wolf
January 26 - 28 | Friday 1pm to Sunday 4pm | Early Bird Price: $495 (workshop, food, lodging inc.) due by Dec 15th or $550 due by Jan 19 | Register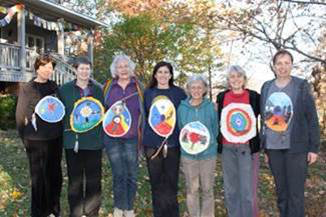 Make Your Own Power Shield" with Susan Wolf and capture your most powerful intentions going into the New Year. Susan will be combining the two things she is most passionate about – Shamanism and Healing with healthy foods with the protocols of Anthony William, the Medical Medium. Enjoy the nurturing experience of getting away for a weekend to stay at Galleywinter Farm, a beautiful farm and retreat center near the Blue Ridge Mountains and having delicious, satisfying and healing meals provided for you!
Making a Power Shield is a very old shamanic tradition involving all four levels of our beings – mental, physical, emotional and spiritual. The shield becomes a doorway to your power. Connect to the gifts of your soul, and bring them into reality with the shield you create. We will journey to the elders of the Four Directions to receive the symbols representing your gifts which are then painted on your shield. We close the workshop with a powerful ceremony to charge and awaken the shields.
Shared Lodging at Galleywinter Farm included in fee. Shared spaces available for extra charge.
Pricing: Early Bird Price: $495 including workshop, healthy food, and lodging! Due by Dec 15th, after that, $550. Payment due in full by January 19th. You can pay with check, cash or credit card.
Dates: Friday, January 26th, 1pm to Sunday, 4pm.
Lodging: It's always great to step out of your regular routine and get away for a retreat. We'll be staying at Galleywinter Farm (20 miles west of Charlottesville), a beautiful retreat center lovingly sustained by Gail
Todter. It is an environment highly conducive to slowing down, feeding the senses and finding inspiration for life. There are a few single rooms available for an extra fee, otherwise rooms will be shared. I highly recommend staying at the farm for the weekend to get the most depth from the workshop. We may also work late into the evenings. If you are not able to stay, let us know, and we will adjust your fee.
Food : I have been studying the teachings of Anthony William, the Medical Medium, since April, 2016. I came to his information after years of suffering with health issues including migraines and more. I have been learning to prepare all natural, organic when possible, plant-based delicious meals that have been helping me to heal that I love sharing with others. I promise you will be satisfied and full! There will be some meat options as well for people who would like.

Come join us for a weekend for yourself to tune into your inner world and bring forward your true gifts! People have really loved this workshop and having their power shields to take home into their lives. Space is limited, please contact me if you have any questions. I look forward to sharing this weekend together!

Susan Wolf Thunder Raven
susan@wolfsongsschool.com
www.wolfsongsschool.com

---
KalaChakra QiGong
February 6 - April 24, 2018 | Tuesdays 6pm - 7:15pm | $90/series and $15 for drop-ins | Register
Marlice Vonck
KalaChakra Qigong is a transformational practice helping students increase willpower, sense of self, and connection to all. Open to all levels. This mind-body-soul practice allows energy to flow to all parts of the body, promoting overall health, vitality and longevity. Dynamic postures and movement are done along with rhythmic, meditative music. Expect to move, breathe and stretch and to become balanced and revitalized.
Marlice Vonck is a Holistic Veterinarian and Integrative Nutrition Health Coach. Her model of healing is based on resolving the root causes of any issues and working towards Thriving Health for all living beings.
Sign up required: Email marlice@keeplifenatural.com or call 540-320-4603
---
Finding Your YES with Alexander Technique & Yoga
Wednesday mornings Feb 7 - March 28, 2018 | 11-12:30 | $90 for 8-class series | $15 drop-in
Lydia Von Briesen
Lydia's yoga class will help you find your most profound source of motivation or "YES" - by developing an amazing listening quality she models and conveys. Alexander Technique "directions" help anchor an open awareness as we move with tone and ease. By applying Alexander Technique to yoga you will be invited verbally and with gentle hands-on-guidance to explore your own integration, invigoration and inspiration. This aspect of the Alexander Technique works beautifully in yoga practice. Take your insights and awarenesses into daily life, where the benefits of practice really show up! Novice to advanced students welcome. This work is something you really don't want to miss! Great for Horse Women!
Wednesdays 11-12:30 in the Galleywinter Farm Fitness Studio.
---
Sound Seed Project: A Journey into Sacred Sound
3rd Saturdays of the month beginning Feb 17, 2018 | 6-7pm | $20 | 6-7pm | $20 | Register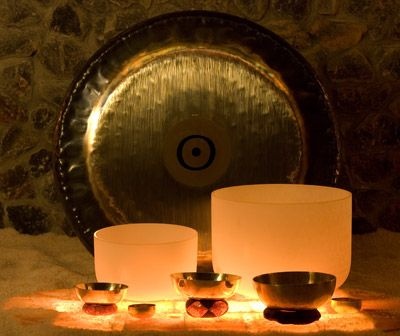 Tina Michelle
We are excited to have Tina Michelle, an experienced Yogi Practitioner, lead this phenomenal healing session. Sound Seed is a 60-min Sound Bath that offers a unique Spiritual Journey into Deep Meditation. Tina uses Crystal Singing Bowls, Gongs, and other Overtone-Emitting Instruments to create an environment conducive to deep relaxation, enhanced energy movement in the body, and for some - profound healing effects.

"Alongside her decades of dedicated yoga practice and teaching she emerged as a healer, first through the yogic tradition of Prana Healing. She received her initiation as a Reiki Master and currently offers both individual healing and group trainings and initiations. As part of Tina's ongoing studies of spiritual and healing texts across many world traditions she also has an in-depth knowledge of Western philosophy and psychology and is a certified Hypnotherapist."
Please join us at the farm for a wonderful opportunity to reset your autonomic nervous system!
Register:
---
Tilak's Gentle Yoga
Mondays, March 5 - April 23, 2018 | 11:00-12:15pm | $90/series and $15 for drop-ins | Register
Tilak Pyle
This gentle, stress-relieving yoga class is Pure Magic. A person really can learn to relax and trust in movement from this place!!! Perfect for those who like to listen to their body as they move. Yoga postures are integrated with the breath to build strength, flexibility, stamina, and mobility. Tilak has been practicing yoga and meditation for 18 years and teaches yoga as an Intuitive Practice of Awareness. He holds degrees in Religious Studies, Literature & Religion, and has studied Sanskrit at the American Sanskrit Institute and the University of Virginia. His joy lies in facilitating meaningful experiences in the lives of his students. To learn more about Tilak: www.tilakpyle.com.
---