Events
Want to be notified about events and happenings at Galleywinter Farm? Subscribe to our newsletter.
The West Lodge: Heal your Deepest Wounds and Walk in Power
April 19 - 22, 2018 Thursday - Sunday | Thursday 12pm - Sunday 4pm | $575 | Register
with Rachel Mann, PhD
Do you love Mother Earth?
Have you always felt a deep connection with stones and animals?
Are you wishing to catalyze deep change in your life and manifest your highest potential?
The Earth Medicine Retreats At Galleywinter
Mother Earth medicine–at the heart of the teachings and practices of The Great Medicine Wheel of the New Earth–offers a profound pathway for soul-inspired activation of transformation and healing. Study the profound wisdom streams connected to Native American spirituality, Buddhism, depth psychology, and multidimensional perspectives on peace, violence and trauma healing.
At four 3.5 day Lodge retreats at Galleywinter Farm in the Blue Ridge mountains of Central Virginia, eat delicious, nourishing meals, find love and support for all of who you are, build a personal mesa or medicine bundle, share stories of trauma and triumph in intimate sharing circles, sing sacred songs, drum, dance, meditate with mindfulness and loving kindness, and hear wisdom teachings to help you walk with courage, authenticity, power, and love in your life.
~ Dance, Drum and Sing in a beautiful Earth Wheel | Create Harmony and Integrity in your life ~
West Lodge April 19 – 22 Learn from Jaguar, Raven and Bear how to enter courageously into and transform the wounds you carry. Here you meet our ancestors to receive the gifts they have given you from their triumphs and hardships, so you can walk with empowerment and confidence.
East Lodge (August 16-19) Learn from Eagle, Hawk and Ant spirits how to die to the old and to rise up out of chaos and change fully transformed with renewed vision, passion and love for life. Here you learn to shine the light of your spirit with the greatest compassion for yourself, others, and Mother Earth.
North Lodge June 14 – 17 Learn from Hummingbird, Horse, and Buffalo the pathway to the great table of the soul. Here you learn the deeper meaning a purpose of all challenges and triumphs and the harness your highest destiny and calling.
South Lodge (Date pending) Learn from gentle serpent and deer spirits how to let go of lack, limitation, scarcity and fear and to embrace a greater story of your life. Here you cultivate sweetness and love for yourself and others.
With the exception of the East Lodge, there are no prerequisites to take these classes. Take 1 or all 4. COST: $575 (includes food; lodging extra).
For more information, visit rachelmannphd.com or call 434-227-0538.
---
KalaChakra QiGong
February 6 - April 10, 2018 | Tuesdays 6pm - 7:15pm | $90/series and $15 for drop-ins | Register
Marlice Vonck
KalaChakra Qigong is a transformational practice helping students increase willpower, sense of self, and connection to all. Open to all levels. This mind-body-soul practice allows energy to flow to all parts of the body, promoting overall health, vitality and longevity. Dynamic postures and movement are done along with rhythmic, meditative music. Expect to move, breathe and stretch and to become balanced and revitalized.
Marlice Vonck is a Holistic Veterinarian and Integrative Nutrition Health Coach. Her model of healing is based on resolving the root causes of any issues and working towards Thriving Health for all living beings.
Sign up required: Email marlice@keeplifenatural.com or call 540-320-4603
---
Finding Your YES with Alexander Technique & Yoga
Wednesday mornings Feb 7 - March 28, 2018 | 11-12:30 | $90 for 8-class series | $15 drop-in
Lydia Von Briesen
Lydia's yoga class will help you find your most profound source of motivation or "YES" - by developing an amazing listening quality she models and conveys. Alexander Technique "directions" help anchor an open awareness as we move with tone and ease. By applying Alexander Technique to yoga you will be invited verbally and with gentle hands-on-guidance to explore your own integration, invigoration and inspiration. This aspect of the Alexander Technique works beautifully in yoga practice. Take your insights and awarenesses into daily life, where the benefits of practice really show up! Novice to advanced students welcome. This work is something you really don't want to miss! Great for Horse Women!
Wednesdays 11-12:30 in the Galleywinter Farm Fitness Studio.
---
Sound Seed Project: A Journey into Sacred Sound
3rd or 4th Saturday of the month - March 24, April 28, May 26, June 30, 2018 | 6-7pm | $20 | 6-7pm | $20 | Register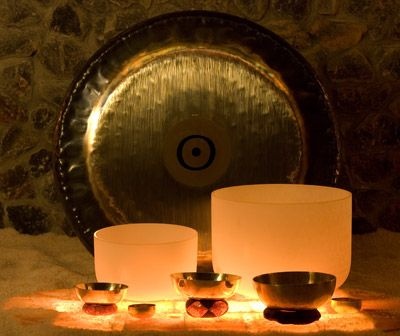 Dominique Clothiaux
Sound Seed is a 60-min Sound Bath that offers a unique spiritual journey into Deep Meditation.
Dominiuqe uses Crystal Singing Bowls, Gongs, and other overtone-emitting instruments to create an environment conducive to deep relaxation, enhanced energy movement in the body, and for some - profound healing effects.
Spring Full Moon | Sound Seed Sessions
Our Spring Sound Seed healing sessions fall on or close to the Full Moon on March 24th, April 28th, May 26th & June 30th. Let the full moon assist you to clear and cleanse your mind, to release stress and negativity, and rebalance your autonomic nervous sytsem. We look forward to sharing this amazing expereince of vibrational healing in the full moon phase.
Register:
---
Tilak's Gentle Yoga
Mondays, March 5 - April 23, 2018 | 11:00-12:15pm | $90/series and $15 for drop-ins | Register
Tilak Pyle
This gentle, stress-relieving yoga class is Pure Magic. A person really can learn to relax and trust in movement from this place!!! Perfect for those who like to listen to their body as they move. Yoga postures are integrated with the breath to build strength, flexibility, stamina, and mobility. Tilak has been practicing yoga and meditation for 18 years and teaches yoga as an Intuitive Practice of Awareness. He holds degrees in Religious Studies, Literature & Religion, and has studied Sanskrit at the American Sanskrit Institute and the University of Virginia. His joy lies in facilitating meaningful experiences in the lives of his students. To learn more about Tilak: www.tilakpyle.com.
---