Music, Mantra & Vinyasa
Friday, April 26 - Sunday, April 28, 2019 | Friday 1pm-Sunday after lunch | $400-$545 based on room occupancy | Register
with Andrea Creel & Ben Wolfgang
Escape to the foothills of the Blue Ridge mountains for an unforgettable weekend of music, yoga, horses, and nature! This relaxing spring getaway includes freshly made vegetarian meals, lodging in shared or private rooms, and a variety of yoga, meditation, and musical experiences that will leave you feeling refreshed, renewed, and uplifted.
read more
North Lodge: Deepen Soul Force
May 24 - 26, 2019 | Friday 1pm - Sunday 4pm | Register
with Rachel Mann, Ph.D.
The Great Medicine Wheel of the New Earth is a journey through 4 weekend Lodges which map the sacred journey of life based on the mystical wisdom of Tsalagi (Cherokee), Shamanism, Buddhism, and Depth Psychology worldviews.
In the North Lodge, with the help of beautiful hummingbird, horse and white buffalo, we connect with the Soul Seed of our highest destiny and purpose in this life. The North holds the wisdom of the elders who have healed their wounds and recognize their journey as perfect and beautiful. In caring community, we share meals and do ceremony while building a medicine bundle.
read more
---
The Fold and the Flow
Friday May 31 - Sunday June 2 | Friday - Sunday | $275 | Register
with Colleen Anderson
In this weekend workshop, sessions of personal writing will alternate with the meditative practice of Origami, or paper folding We'll begin by creating a folded cover for a small handmade journal that you may use for the workshop and take home with you. Mixing times of quiet reflection and fellowship, this workshop will exercise both sides of your brain and delight your senses.
read more
Pen, Paper & a Breath of Fresh Air
Saturday, June 22, 2019 | 9:30am - 5:30pm | $180 | Register
with Gail Todter PhD&Jena Leake PhD, REAT
A Writing Retreat at Galley winter Farm
Celebrating the Poetry of Mary Oliver
Welcome the beginning of summer by luxuriating in a poetic day of exploring nature, writing, and our one wild and precious life. Take the time to be idle and blessed, roam the summer fields, savor a delicious meal together, and write in unique, hand-sewn journals created especially for this retreat. Bring favorite Mary Oliver poems to share – we will weave them into artful rituals and meditations throughout the day.
Pay attention Be astonished Tell about it
Retreat Fee: $180 (includes lunch, handmade journal & art materials). To enrich your experience please consider staying with us Friday and/or Saturday nights. View accommodations at http://leadingforth.com/accommodations
---
---
Ongoing Offerings
Sound Healing at the Farm
Saturday 4/20 | 6-7pm | $20 | Register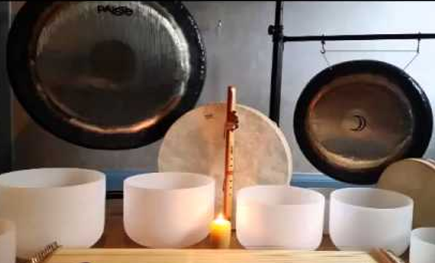 Crystalline tones will surround you, creating a beautiful soundscape to soothe your body, mind and spirit. Benefits to your brain and body are similar to deep meditation, requiring no effort or experience on your part and bringing a high level of well-being, integrated throughout your entire body down to your cellular structure. We appreciate your support of this amazing work. Our sound-healing practitoners are available for private sessions for individuals or groups. Email if you have questions or need directions! We look forward to seeing you!
Sound Seed Project
with Dominique Clothiaux
Relax into a unique journey to your amazing parasympathetic system where deep healing resides. Enjoy an hour of immersion in the sounds and vibrations of Crystal Bowls, Gongs, and other overtone-emitting instruments to create an environment conducive to deep relaxation, enhanced energy movement in the body, and for some - profound healing effects.
Restorative Sound Healing
with Megan Sprague
Megan brings her special mix of drums, bells, bowls and more to help us journey into realms of deep healing and insight. Her sessions in the studio are always a delight. To learn more about Megan, please visit her website http://restorativesounds.com
Alchemy Singing Bowls
with Aiia Criostiona
Experience the highest quality crystal bowls on Earth! Singing bowls have been used for centuries to raise consciousness, release tension, increase awareness, and enhance physical well-being. Deeply relaxing and restorative, you will float on an ocean of sound vibration.
Mindful Yoga with Tilak
Mondays, April 29 - June 24, 2019 | 11:00-12:15pm | $90/series and $15 for drop-ins | Register
Tilak Pyle
This gentle, stress-relieving yoga class is Pure Magic. A person really can learn to relax and trust in movement from this place!!! Perfect for those who like to listen to their body as they move. Yoga postures are integrated with the breath to build strength, flexibility, stamina, and mobility. Tilak has been practicing yoga and meditation for 18 years and teaches yoga as an Intuitive Practice of Awareness. He holds degrees in Religious Studies, Literature & Religion, and has studied Sanskrit at the American Sanskrit Institute and the University of Virginia. His joy lies in facilitating meaningful experiences in the lives of his students. To learn more about Tilak: www.tilakpyle.com.
---