Personal Writing & Creative Retreats
June 2020
When: NOW. With: YOURSELF | Get out your journal - and a nice pen, or any pen. Start writing about what you're noticing, what you're worrying about, what is making you question things, what is colorful, beautiful, snuggly. Your book is a wonderful place to process, specially while you are rediscovering your own home.
Sound Healing at the Farm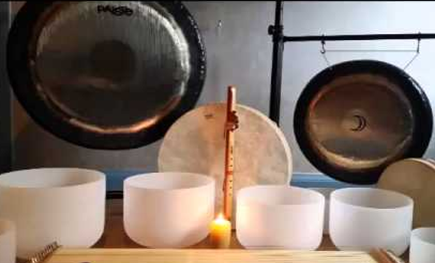 Crystalline tones will surround you, creating a beautiful soundscape to soothe your body, mind and spirit. Benefits to your brain and body are similar to deep meditation, requiring no effort or experience on your part and bringing a high level of well-being, integrated throughout your entire body down to your cellular structure. We appreciate your support of this amazing work. Our sound-healing practitoners are available for private sessions for individuals or groups. Email if you have questions or need directions! We look forward to seeing you!
Sound Seed Project
with Dominique Clothiaux
Relax into a unique journey to your amazing parasympathetic system where deep healing resides. Enjoy an hour of immersion in the sounds and vibrations of Crystal Bowls, Gongs, and other overtone-emitting instruments to create an environment conducive to deep relaxation, enhanced energy movement in the body, and for some - profound healing effects.
Restorative Sound Healing
with Megan Sprague
Megan brings her special mix of drums, bells, bowls and more to help us journey into realms of deep healing and insight. Her sessions in the studio are always a delight. To learn more about Megan, please visit her website http://restorativesounds.com
Alchemy Singing Bowls
with Aiia Criostiona
Experience the highest quality crystal bowls on Earth! Singing bowls have been used for centuries to raise consciousness, release tension, increase awareness, and enhance physical well-being. Deeply relaxing and restorative, you will float on an ocean of sound vibration.
Mindful Yoga with Tilak
Mondays, Spring 2020 | 11:00-12:15pm | $90/series and $14 for drop-ins | Register
Tilak Pyle
This gentle, stress-relieving yoga class is Pure Magic. A person really can learn to relax and trust in movement from this place!!! Perfect for those who like to listen to their body as they move. Yoga postures are integrated with the breath to build strength, flexibility, stamina, and mobility. Tilak has been practicing yoga and meditation for 18 years and teaches yoga as an Intuitive Practice of Awareness. He holds degrees in Religious Studies, Literature & Religion, and has studied Sanskrit at the American Sanskrit Institute and the University of Virginia. His joy lies in facilitating meaningful experiences in the lives of his students. To learn more about Tilak: www.tilakpyle.com.