Screening of "Horse Teacher" featuring Gail Todter
December 2, 2022 | 6:00 PM, 6:30 PM, 7:00 PM EST | FREE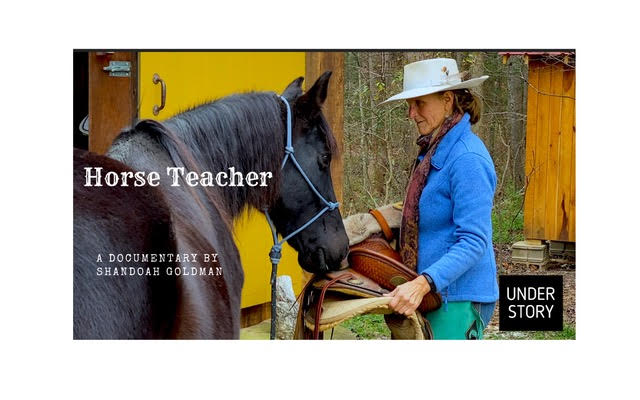 Join us for the second screening of Horse Teacher, a documentary by Shandoah Goldman featuring Gail Todter, at McGuffey Arts Center (201 2nd Street NW, Charlottesville, Virginia) in Studio 11.
ABOUT THE FILM:
A cinematic portrait of equine artist Gail Todter. Her life-long story of working with horses beyond riding them takes us on her journey of what it means to be human and the lessons that could have only been learned from an animal much larger than her. Filmed on her dreamy farm in the Blue Ridge Mountains of Virginia, we have an intimate encounter with a woman who is a student of the horse and the space in which her ride unfolds. We will listen to her words from the pages of her journal, which she handbound herself. Her horses, dog, cat, garden, turquoise chaps, tractors, and yoga studio are the arena for which she takes the reins, loosens them, leads with certainty, releases into wild pastures to graze on the nourishment of what feeds her most
FILM BY SHANDOAH GOLDMAN:
Canadian/American artist Shandoah Goldman is the founder of Under Story. Her immersive practice fuses performance with film, location, sound, theatre, and brands. She holds a B.A. from Bennington College and M.A. from London Contemporary Dance School. Her artistic career has spanned Montreal, London, and New York City, where her work has been presented in theaters, museums, and many site-specific locations including the Flatiron Building and The High Line. She has recently relocated from Brooklyn to her hometown of Charlottesville, VA.
Gentle Yoga Class
Fridays | 11 AM | Dependent on teacher and class size
Join us in the Studio for Gentle Yoga. We are led by instructors Cynthia Elledge and Kelli Frayzer, who help guide your body through nurturing movements with special care to any area you may be experiencing tension or injury in. This is generally a small group of 2 to 3 students, and we prefer those with a regular practice. To register, please email gail@leadingforth.com with the dates you are interested in attending!