Drum Circle
Friday, August 23, 2019 | 6-7:30 pm | Free
with Rachael Mann
Do you love the sound and feel of Native American drums?
Do you want to learn more about how drums and sacred chants shift heavy energies and bring in more light?
Do you want to feel vibrant and energized?
Join Rachel at Galleywinter Farm to join in the fun and healing energy!
This event is FREE and open to the public. No musical experience required! Please bring your own drum, rattle or any other percussion instrument.
Memoir & Meditation
November 15 - 17, 2019 | 4pm Friday - 2pm Sunday | $325
Memoir & meditation
Dawn Curtis & Ellen Collins
" We are each like an ocean, holding moments and impressions that sometimes hide in the depths and sometimes rise to the surface in shadowed glimpses or in absolute clarity. Memoir is a genre that helps us find those deeper places. Sometimes those deeper moments need to be teased out, because we have safeguarded them in the recesses of our minds. Sometimes all we need is some dedicated time to explore the stories we want to write."
Join Dawn Curtis and Ellen Collins for a weekend retreat of Yoga and Memoir writing in the healing and restorative environment of Galleywinter Farm in the lee of the Blue Ridge Mountains. Using nature, yoga asanas and meditation, plumb the deep well of memory and find the stories that matter.

Ellen Collins is an award-winning writer. She has published two books of poetry (The Memory Thief and Invitations: Poems of Yoga and Meditation). A teacher for Fairfax County Public Schools for over 20 years, she has also led writing workshops for adults and children.
Dawn Curtis, C-IAYT, E-RYT® 500, is an experienced yoga educator and Certified Yoga Therapist. Dawn has practiced yoga for more than 25 years. Her teaching is based in a deep love and commitment to her own practice, dedication to life-long learning and growth, and a genuine calling to empower others on their paths to well-being.

Dates:  Friday - Sunday November  15 - 17
Check-in for Retreat: 4:00 pm Friday
Closure and check out Sunday 2 pm, November 17

Fee (includes all retreat materials, food, and yoga/meditation classes) 
$325.00 preregistered by Saturday, October 12; after $375.00. 
Register early! Event will sell out!

Lodging/Rooms booked separately with Galleywinter Farm. Contact Gail (434-244-2663) at Galleywinter http://leadingforth.com/accommodations for the group rate for this retreat.
---
TRE Global Certification Training
December 6-8, 2019 | 10 am - 6 pm | $475 - $525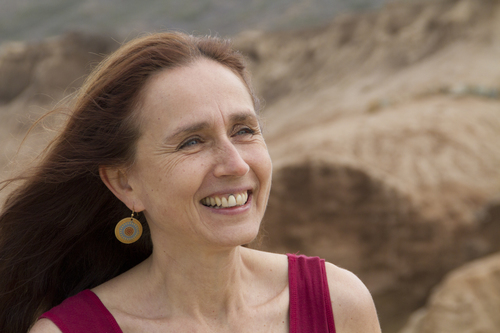 Maria Alfaro
8 CEUs available for massage therapists and bodyworkers nationally.
Description: Those certified will be called "Certified TRE Providers" and will have the competency needed to teach both individuals and groups.
Both workshops are very experiential.
Module 1 is open to the public and it can be taken as a personal healing exploration. This 3-day class includes several guided TRE experiences, lectures on the anatomy, neurology, physiology and psychology of trauma, teaching of basic teaching and containment skills, the newest research on the nervous system, group discussions and sharing .. and MORE.
Module 2 is only open to the trainees who attended Module 1 and are enrolled in the TRE Global Certification Program. In Module 2, participants deepen their knowledge and experience of TRE and their facilitating skills. They learn no-touch and hands on interventions and about the role of fascia in the TRE process… and MORE. They also begin to facilitate the process for each other under supervision.
Dates:
Module 1 – December 6, 7 & 8, 2019 | 10:00am - 6:00pm
Module 2 – March 27, 28 & 29, 2020 | 10:00am - 6:00pm
Module 1 - December 6 -8, 2019. | $475 if paid in full by October 15, 2019, $525 after that date. |
Module 2 - March 27 - 29, 2020. | $475 if paid in full by January 15, 2020, $525 after that date. |
You can get a full refund (minus $30 administrative fee) up to two weeks before the training. If you cancel less that two weeks before the training your fee will be transferred to the next available training.
Additional supervision sessions are required for certification. Please review the Global Certification Requirements and costs and contact Maria with your questions about the program.
Where:
Galleywinter Farm Studio
8801 Dick Woods Road
Afton, VA 22920
The hosting venue is very unique and has a few nice and reasonably priced rooms for rent. For more information contact Gail: gail@leadingforth.com
Questions about the training and registration:
REGISTER HERE: Please enter amount below
read more
---
Ongoing Offerings
Sound Healing at the Farm
Saturday June 8 | July 6 | 6-7pm | $20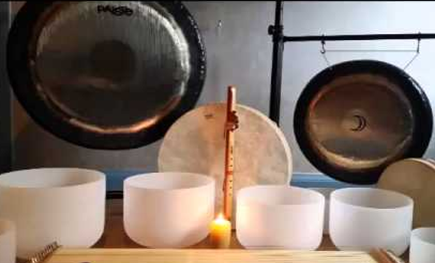 Crystalline tones will surround you, creating a beautiful soundscape to soothe your body, mind and spirit. Benefits to your brain and body are similar to deep meditation, requiring no effort or experience on your part and bringing a high level of well-being, integrated throughout your entire body down to your cellular structure. We appreciate your support of this amazing work. Our sound-healing practitoners are available for private sessions for individuals or groups. Email if you have questions or need directions! We look forward to seeing you!
Sound Seed Project
with Dominique Clothiaux
Relax into a unique journey to your amazing parasympathetic system where deep healing resides. Enjoy an hour of immersion in the sounds and vibrations of Crystal Bowls, Gongs, and other overtone-emitting instruments to create an environment conducive to deep relaxation, enhanced energy movement in the body, and for some - profound healing effects.
Restorative Sound Healing
with Megan Sprague
Megan brings her special mix of drums, bells, bowls and more to help us journey into realms of deep healing and insight. Her sessions in the studio are always a delight. To learn more about Megan, please visit her website http://restorativesounds.com
Alchemy Singing Bowls
with Aiia Criostiona
Experience the highest quality crystal bowls on Earth! Singing bowls have been used for centuries to raise consciousness, release tension, increase awareness, and enhance physical well-being. Deeply relaxing and restorative, you will float on an ocean of sound vibration.
Mindful Yoga with Tilak
Mondays, April 29 - June 24, 2019 | 11:00-12:15pm | $90/series and $15 for drop-ins | Register
Tilak Pyle
This gentle, stress-relieving yoga class is Pure Magic. A person really can learn to relax and trust in movement from this place!!! Perfect for those who like to listen to their body as they move. Yoga postures are integrated with the breath to build strength, flexibility, stamina, and mobility. Tilak has been practicing yoga and meditation for 18 years and teaches yoga as an Intuitive Practice of Awareness. He holds degrees in Religious Studies, Literature & Religion, and has studied Sanskrit at the American Sanskrit Institute and the University of Virginia. His joy lies in facilitating meaningful experiences in the lives of his students. To learn more about Tilak: www.tilakpyle.com.
---